We have had an interesting job at Colchester IT recently.
As part of a customers computer repair, they provided us with a '2TB' hard drive they had bought on Amazon in order to complete a data transfer. They mentioned that it was playing up but if we could sort it out then it would be appreciated. The storage wasn't sufficient; nowhere near the supposed 2TB and it wasn't cooperating with anything we plugged it into. We opened the case up to get to the hard drive with the intention of putting it in our workshop PC to test it more thoroughly but ended up finding a little surprise instead!
It was a genuine looking external hard drive, branded up, but inside was a tiny little USB flash drive, with only a measly 64GB of storage and paired with a glued down weighted plate to make the 'external drive' feel authentic!
Luckily, the customer saw the funny side of the situation and informed us that they will be taking it up with Amazon, (and rightly so).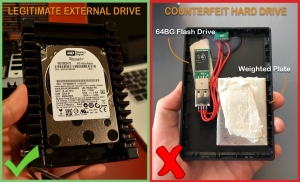 A nice Amazon bargain turned out to be more trouble than bargained for. So when it comes to buying tech online: know your sources, trust your companies, and if it's too good to be true, it probably is…
https://www.colchesterit.com/wp-content/uploads/2019/04/Hard-Drive-Cover-1.jpg
287
365
Ross
https://www.colchesterit.com/wp-content/uploads/2023/08/Colchester-IT-web-Trans.png
Ross
2019-04-05 13:18:36
2019-04-17 13:27:24
Beware of expensive paperweights!